Hey, guess what? The Quillax Ship has been awarded the Best Website award from Keen Awards 2019 on the PCKF! The Mortrix got the Best Vorticon Mod award as well! I've been given two snazzy trophies made by Lava89, and they're now to be kept in the Quillax Ship! (Though, I did have to shrink them to save up space.) Check them out!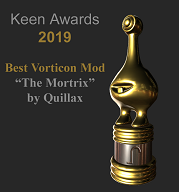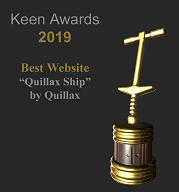 Aren't they awesome!?
Also, today is the 2nd anniversary of the Quillax Ship! Hard to believe that it's been around for that long, isn't it? I hope it will last for two more years, or five, or even ten! No, forever!
By the way, I just updated the Go! Go! Gooble!! page to include a notice that the online high scores server are currently down. It's been like that for quite a while now. So don't freak out if you're getting an error page by trying to view the scores! Also, if you're using the URL "quillaxship.com" and you see something weird, try using "www.quillaxship.com" instead.